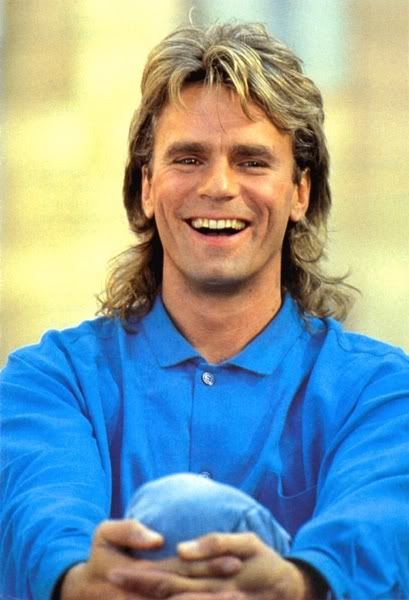 Richard Dean Anderson Mullet hairstyle
The mullet started in the late 1960s and 70s as a modern hairstyle, and is most often remembered from popular use in the 1980s. It is still fairly common today, and it is worn all over the world. Before you decide to get this cut, you need to decide if you want a traditional mullet or if you're going more for the trendy emo style seen on teenagers everywhere. How to get a mullet hairstyle is fairly easy.
If you want the more traditional mullet, where it looks like you have short hair from the front and sides, and long hair in the back, then the best way to achieve this is to get a picture of the exact haircut you do want and take that into a barber or hairdresser and ask for your hair to be styled exactly as shown.
Many men sporting the traditional cut do wear the long, back part of the hair in a ponytail, especially while they work. This is most often associated with a working class type of man.
Some famous men have worn it, particularly the heavy metal bands of the late 80s.
Mullet is not just for men, women are sporting this look as well now. It's longer then a traditional mullet, and is shaggy all over with the fringe slightly asymmetrical and a very long back. The long back part is pulled over the shoulder, and it can be multi-coloured. The shorter portion can be very short to longish, and typically the men's version of this is slightly shorter all over then the women's style.
Mullets never go out of style. A good picture of the hair you want and good hairstylist are important in getting the perfect mullet.